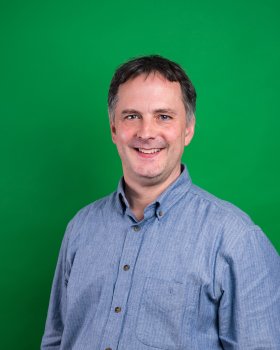 President & Chief Executive Officer
Prior to joining NMITE, James worked for the University of Surrey in a range of roles involving the leadership of teams responsible for most non-academic aspects of the University's activities including Estates, IT, Commercial Services, Community relations, Fundraising and Institutional Governance. In his final year at Surrey, he led an organisational change team to reshape the University to prepare it to meet the many challenges facing the Higher Education sector.
In addition to his role at Surrey, James has worked with other Higher Education institutions as an advisor on organisational change and as a trustee of their Students' Unions. This combined his HE and governance experience with his desire to work closely with students to improve the universities they attended. 
James specialises in organisational development and business change having worked with a number of organisations on restructuring projects. He is also a data compliance specialist so spent considerable time working on projects across the HE sector to prepare universities for the changes resulting from the introduction of the GDPR regulations in 2018.
Prior to joining the University sector, James worked in High Street retailing splitting his time between working in operations for companies such as WH Smith Limited and running his own businesses.
Details
BSc in Chemistry, Open University; MBA Open University; Member British Computer Society and the International Information Management Association