What is the NMITE Difference?
NMITE's Integrated Engineering Courses were purposefully designed, from conception to creation, to be different.
The difference? Preparing you to be work-ready, highly skilled, world-conscious, self-aware, confident, multi-faceted, employable (and desirable!)
Here are some highlights:
A range of purpose-designed engineering courses - they'll get you out into the world of work faster, and often, at less cost!
Learning time 9-5, Monday-Friday modelling the typical workplace and providing clear and unambiguous downtime
Hands on learning-by-doing - in small student teams, in an engineering studio like your future work environment - and we don't have any lecture halls!

Emphasis on 

learning how to learn - 

critical for

your

future professional

development

Regular access to NMITE's Engineering Factory – all the latest equipment used by industry to support your learning 
Real-world challenges, set by real employers, at the core of each learning module -  

helping you to learn both content and professional practice
Engineering educators with a mix of academic and work experience, and others from professions including economics, geopolitics, culture, technology, ethics, design, the arts, humanities, finance, marketing and business 
No traditional exams - instead your own personal learning portfolio - which underpins assessment at the end of each learning module and lives on with you as a reference after graduation
Support as and when you need it with your own allocated personal tutor - and 24/7 access to our Academic Skills and Knowhow Centre and Student Support Services 
A laptop for every student - inclusive of all the hardware, software and IT support you need to undertake your studies
Lifelong relationship with NMITE - not as a number on the alumni database, but helping to shape the future of the organisation through future partnership, classroom contributions and Continuing Professional Development
Unique, yet tried and tested
The "Why?" behind our approach is just as important as the approach:
We believe that engineering education can and should be better

We believe that engineering must become more open to new and different kinds of thinkers

We believe in increasing the potential of every learner who crosses our threshold

We believe that experimentation, trial and response, learning how to learn, working with people from a variety of backgrounds, and reflection on work done and yet to be done is vital to being work-ready when entering the workforce
Image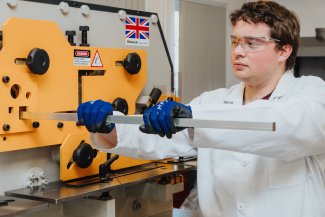 Our Integrated Engineering Courses
What you'll learn
During a series of month long focused engineering modules, you'll study five main pillars of engineering spanning multiple disciplines to become confident at using a range of different engineering concepts and practice bringing them together using whatever the situation demands. These engineering specialisms will give you a solid grounding on which to analyse problems and create solutions and, in each pillar, you'll show your understanding by applying your learning alongside an industrial or community partner.
How you'll be taught
Month long engineering toolboxes will equip you with all the skills you need, like drawing, certainty, programming, workshop skills, communication, data visualisation, management and business, creativity and design. Working in small teams, similar to the real workplace, you will integrate all of your engineering and toolbox skills to work on substantial community-based challenges with local organisations at the end of each level of study. 
By combining your engineering expertise with what you've learned in the toolboxes, along with your experience in numerous challenges and projects, and in Community-Based Challenges you'll be ready to create solutions, add value, and make a change.
You'll be supported throughout the course to master not only the mathematical tools needed to be a safe, accurate and efficient engineer, but also the engineering knowledge and work readiness skills needed to apply all of your professional determination upon graduation.
Image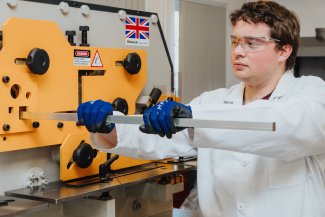 Image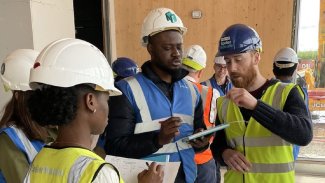 How you'll be assessed
We believe that your assessment should be as reflective of a real workplace as possible and that means no traditional exams. Instead, our assessments take the form of in-studio quizzes, presentations and debates, display of artefacts you've developed and built, industrial reports, development of specifications, test reports and project plans, creative media presentation and general question and answer sessions where your participation and knowledge can be assessed.
What this means for your employability
A distinctive feature of the NMITE MEng is the integration of our Partners into every stage of learning. Our model of working on real-world challenges brings you into contact with employers of varying sizes and from a multitude of sectors including security, health, energy, sustainability, food production and infrastructure, working on projects that enhance their business. 
Each step of the way through your NMITE journey, your work will be done in partnership with industry, guaranteeing that the learning taking place is not only up-to-date, but reflects a real engineering environment. This interaction with many partners will allow you to build an extensive network and demonstrate your engineering ability to a wide range of future employers. 
Our Partners 
Provide practical expertise and knowledge 

Provide real-world challenges 

Provide resources for learning environments 

Host student projects 
Image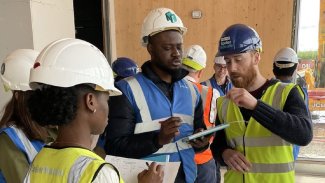 Details about NMITE
NMITE is registered by the Office for Students (Ofs) as an English Higher Education Institution (HEI). Our registration means that we have met the same rigorous requirements as all other Universities/HEIs, including those of the Quality Assurance Agency and our validating partner, The Open University. 
It is NMITE's intention to apply to have its Integrated Engineering degrees accredited with a professional engineering institution, but such an application cannot be made until the first students graduate. The course has been designed to meet the educational requirements for CEng (MEng) and for CEng partial (BEng)