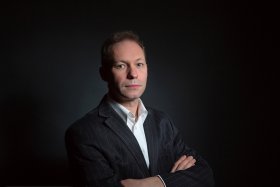 Visiting Professor & Head of Product Innovation and Digital Catapult
Industry background: Telecommunications, Future Networks, IoT
Bio: Technologist and senior product manager, Peter Karney heads up Digital Catapult's Product Innovation team which defines the scope and features of the platforms that support our key activities. With a team of researchers, designers, tech evangelists and product managers, Peter helps turn project ideas and concepts into tangible assets and services.
Instrumental in setting up new IoT labs and test beds, responsible for sensor projects deployed in the Kalahari and is currently product managing a consortium project that aims to revolutionise the way that air space is utilised by UAVs and drones.
25 years' experience in telecoms services and the product management of digital consumer applications. He worked for some of the largest telecoms companies (NEC and Vodafone), involved in 5 new mobile network launches across Europe, the Middle East and Africa. Peter has also worked for smaller startups and innovation organisations: Livewire Mobile - now acquired by Onmobile, Wholesale Applications Community - now acquired by Apigee and Hibu Labs.
Qualifications: BEng (hons) in Electronic Engineering at University of Manchester, Chartered Electrical Engineer (CEng), Member of the Institute of Electrical Engineers (MIEE)