It's Earth Week here at NMITE, and we've been speaking with NMITE supporter, Susie Dunkerton of Dunkertons Cider Company. Susie tells us all about the methods they used before they had any high-tech equipment, and how engineering boosted their production (as well as the sustainability of Dunkertons methods!)
We pressed our first cider apples at Hays Head near Pembridge in October 1980, 'we' being myself Susie, and my husband Ivor, Dunkerton. We were determined to rediscover the essence of individual, traditional locally grown varieties and to explore methods of both cultivation and production that did not rely on chemical inputs. We became members of the Soil Association in 1981, providing us with crucial guidelines relating to Organic land management - there was only one cider apple tree on our 30 acres at the time! The scheme allowed us to gain Organic Certification for orchard owners on their behalf and so spread interest in more sustainable farming methods.
We started our own planting, first was the Kingston Black cider apple in 1988, gradually, and somewhat sadly, giving up our pigs, sheep and Hereford cows expanding to 28 orchard acres in total. But what a joy, besides the constant discovery of how to improve the soil and quality of our fruit, to witness the resulting harvests and numbers of wild flowers, insects and birds in the hedgerows. We have also encouraged the revival of the Perry pear.
As for cider and perry production our methods have developed from being incredibly physically demanding, shoveling apples to the washing area, building up "cheeses" of pulp wrapped in cloths, wheeling trolleys on to a 1940ʻs hydraulic press; later we bottled and corked by hand (using an Italian Bertolaso Supergloria, inspired by her name), drying off labelled bottles in our kitchen, carrying boxes, gallon jars and kegs back and forth. Amazing when we could afford a second-hand reconstructed potato elevator to take apples up to the mill, and a sack truck for cases of cider. And, much later, automatic carbonating and bottling equipment (with financial help from the family and the EU) which in turn helped increase sales enormously.
Most equipment depended on either complete overhaul or installation, and maintenance, by accomplished local engineers and electricians. Neither of us, nor Robert West who joined us in 1983, were very technically inclined, though fascinated, but we grew to understand how the earlier machinery worked as we could see all the moving parts! We required many patient explanations from those who were qualified.
As sales increased so did the work force (maximum 5 and 2 part-time), to include harvesting, pruning and running our on-site shop, everyone learned to be more resourceful and practical in the Cider Mill. Ivor and I concentrated on promotion, wholesale, not so exciting office work, very exciting cider and perry tasting! We opened a Restaurant here in two beautifully converted barns in1994, serving local produce (for a while VERY local beef) and offering our wide range of ciders.
To bring us up to date: in 2017, the Mill in Pembridge closed and moved to just outside of Cheltenham under our son, Julian's, ownership (with day to day oversight under the care of Bean (Jeremy) Benson). They are now making great use of the new space to expand production further and face many new challenges of scale and sustainability. The whole process from juice through fermentation to the final cider and perry continues to be covered by Soil Association standards, and with our strong links to the organisation, research into packaging, recycling and environmental impact continues.
They are also in a great position to encourage even more farmers to turn to Organic methods, already showing signs of success. Their much larger shop and showcase for locally made breads, cheeses, and chutneys is beginning to inspire other potential suppliers too.
We all hope that going forwards we will be able to look at developing projects with NMITE as the Cider Co is in a good position to offer opportunities to future learners in a meaningful and exciting way! And as a supporter of NMITE, I personally look forward to seeing future NMITE learners succeed in becoming the exceptional engineers that the UK requires.
And, of course, our entire enterprise was inspired and sustained by the Earth.
Image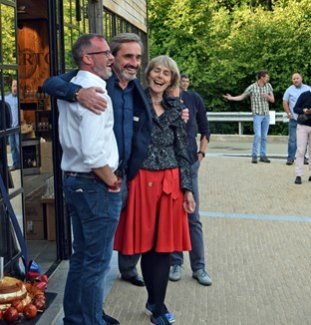 Pictured: Jeremy 'Bean' Benson with Julian and Susie Dunkerton
Image