Giving Tuesday is the global day of giving, where everyone, everywhere can do something to support the good causes that mean so much to them.
At NMITE we are proud of our roots as a not-profit organisation built on the generosity of those who have given their time, money, expertise, and energy to get us to where we are today. With the help of dedicated individuals and organisations we have made incredible progress: from the seed of an idea, to an institution "in the making", to an innovative start-up and now a new provider of Higher Education that is delivering a unique degree programme to its first aspiring engineers.
Our journey doesn't stop here. We have ambitious plans to develop more accredited courses, to deliver a competitive skills offering, to enhance our programme of outreach activities and champion engineering as a desirable and accessible career choice for people from all backgrounds.
Why? Because, to put it simply, the world needs more engineers. It needs engineers who can think innovatively and have the confidence to try different ways of doing; who can inhabit and respect different perspectives; for whom engagement with business and society is a wholly integrated part of their practice; and who approach problems with a different mindset. The world needs engineers who have the vision and drive to address society's most pressing issues. It needs NMITE engineers.
We're here to make a difference, and we want our impact to resonate across our local and global community. This vision is only possible with funding, endorsement and championship from people who share it.
Don't just take our word for it - read the case studies to be inspired by the impact that other peoples' gifts have made.
I studied Civil Engineering at University, but I felt there was a disconnect between academic teaching and practical application. I like that both are combined at NMITE, and that students who might have a brilliant practical mind can develop it by problem solving combined with academic teaching.
This country is crying out for engineers...It is the young people of today who we rely on to solve our problems, both now and in the future, so any financial support is important no matter how small.
I hope that in some small way my financial support will help someone to develop their engineering skills. I hope that by sharing my enthusiasm with others, they too might be inspired to help in whatever way they can.
David Furnival, member of NMITE Ignition
Learning should be available to everyone, no matter what their background or circumstances. NMITE will be the epicentre of a community that will embrace inclusivity, diversity and opportunities for change.

One of NMITE's most successful community initiatives is providing support, education and collaboration opportunities for military leavers, so they can transition smoothly to the civilian world of work. Moving forward, NMITE will be working on initiatives that reach out to other groups who may have faced significant barriers in building career pathways.

To be able to make a regular contribution to NMITE that will provide opportunities for others to engage in lifelong learning is an honour and I would encourage anyone to support NMITE in any way that they can. It may be a small gift, a significant donation, or even just an introduction. All of this contributes to NMITE being that 'epicentre for change.
Samantha Lewis, NMITE HR Director and member of NMITE Ignition
Image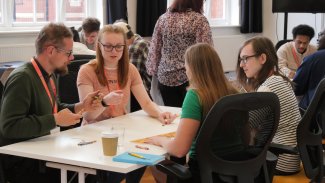 If you've been inspired to get involved, there are plenty of opportunities for you to give in the way that's best for you, and we celebrate every voluntary action no matter how large or small:
You can help us open up opportunities to individuals facing barriers to their education by funding scholarships and bursaries
You can enhance our industry-led curriculum by partnering with us through your business;
You can make connections within your networks or sponsor an event to enable us to reach a wider audience;
You can make a valuable contribution to our overall mission by making a one off gift or a regular donation through ignition. 
However you choose to give, you'll become part of NMITE's community of change-makers, joining students, staff, volunteers, businesses and donors who are working to usher in a new era of engineering education.
Image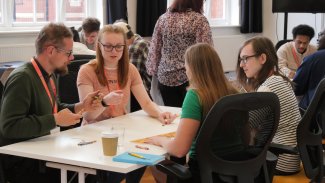 The Trustees were delighted to support NMITE's aspiring engineers by providing a grant for a new demonstrative Delta Robot. We strongly endorse NMITE's "learning by doing" methodology and are pleased that the funding has made a tangible contribution to the student's educational experience.
Ian Smith, The Rowlands Charitable Trust
Without the bursary I received because of money raised through the Pioneer Fund, I would not have been able to afford to retrain as an engineer. I am grateful to all those who contributed towards the Fund, as they have given me the opportunity to change career direction. I am excited to see what I will work on when I graduate.
Finn Neate, member of the Pioneer Cohort and recipient of bursary funding
Image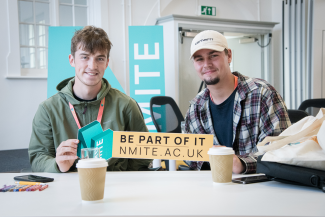 Are you with us? This Giving Tuesday, come and be part of it.
Keep up to date with our latest news and opportunities to make your mark by joining our mailing list
If there's a specific area you'd like to help us with, we'd love to hear from you. Please get in touch.
Image