Image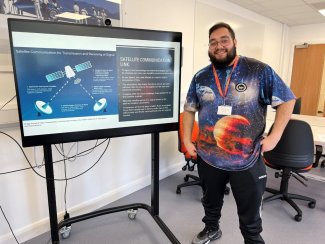 Hello there! My name is Abu-Huraira Ishfaq and I'm a 19-year-old student at NMITE, and a member of the Pioneer Cohort. I was born in Peterborough, a small city on the opposite side of the country to Hereford. I lead quite a busy lifestyle and routine, and a lot of my time goes into my religion as I am a Muslim and dedicate my life to Islam. To wind down I enjoy playing video games, snooker, and learning new things. 
I am the first generation in my direct family to attend higher education. My mother had great potential and academic ability and intended to go to university. Unfortunately, she faced mental health issues because of the loss of her brother in a car accident, which ended her chances at the time. I vowed to do my best to get a degree in her honour, and I decided that NMITE would be a good place to fulfil her dreams. 
I'd like to tell you about my experience with NMITE. It all began in the summer of 2021 when I was at a Young Professionals event. Two NMITE academics told me about the new HEI and from that moment I felt part of something great, a real chance to change our world. At the time I was dedicated to pursuing a career in clinical psychology because I studied Psychology, Geography and English Language & Literature at A-Level. These are subjects I never thought would be linked to engineering until I heard about NMITE. 
Image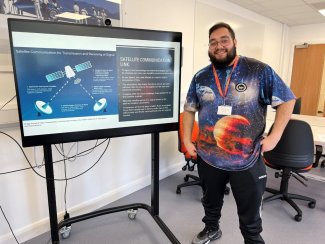 "From that moment [when  I heard about NMITE] I felt part of something great, a real chance to change our world." 
Abu-Huraira Ishfaq
I applied to NMITE, made it through the selection process and was offered a place. I was also offered a place to study psychology at the University of Leicester, so I had to weigh up the pros and cons of each opportunity. I chose NMITE because I could gain a higher qualification with less debt and receive a significant bursary which would support me in the long run. It was a hard decision as Hereford is a massive distance from my family and they are key to my life, but it was a sacrifice I was willing to make for the sustainability of my future.  
Since joining NMITE I have enjoyed every part of the experience. The smaller student cohorts make you feel connected like a family and like you can be there for each other, and there is real chemistry between the academic and student body. For me, I would say NMITE is the perfect blend of an apprenticeship and a traditional university, as you can gain theoretical knowledge whilst working with real-life people, making real-life changes, and preparing you for the real world of work. 
When I graduate from NMITE, I see myself working for a multinational consultancy agency and becoming the face of that company. I could even go out and start my own company linked to a specific part of engineering which excites me. The possibilities are endless, and while I am not yet certain which route I will take, I can guarantee that my future looks bright. For that, I owe gargantuan gratitude to NMITE.
"NMITE is the perfect blend of an apprenticeship and a traditional university, as you can gain theoretical knowledge whilst working with real-life people, making real-life changes, and preparing you for the real world of work." 
Abu-Huraira Ishfaq