The NMITE Bursary Offer
We know that going to any University or Higher Education Institution is expensive, and that is why we are committed to easing the financial burden for all our students through bursary support.
NMITE September 2022 Bursary
NMITE will provide a cash bursary to all new applicants joining in September 2022 of £2,000 in the first year.*

To receive this bursary you need to become a Registered Student for our September 2022 cohort, there are no other conditions. We won't ask you for any personal information about you or your family's background.
Other bursaries may become available – particularly if you believe you will face financial hardship or if your family's financial situation is preventing you from considering a place at NMITE.

If you want to join one of NMITE's later intakes, such as January 2023, then further bursaries may also be available to you. Further details will be made available soon, and for information regarding these future intakes, contact our Admissions team.

Our generous donors continue to provide the funds that make our bursaries possible – so watch this space, we will publish information about additional financial support when we have it.
What it Means for You
NMITE is a pioneering Higher Education Institute, and using our unique programme, we're educating a new generation of engineers whose diverse backgrounds will give them the mindset to think, engineer, and work differently.
We want to support you financially – the bursary will be paid to you in three instalments within your first year. These will align with the timing of your tuition fee bills.

However, the bursary is a cash award –  meaning you can spend it on whatever you like, be it accommodation costs, living expenses, your leisure time or even save it up for the future.

To receive the full bursary you will need to remain a fully registered and participating student on the NMITE MEng programme.

Studying with NMITE provides you with other forms of financial help – our programme has been designed to be incredible value for money. Course fees are currently only £7,200 per year. Brand new, purpose built student accommodation with inclusive rent is guaranteed to all those who want it (so there are no hidden accommodation costs).

And remember, you will graduate with an MEng in only 3 years – meaning you can start earning sooner. And NMITE engineers will be highly employable.
NMITE is also fully registered with the Student Loans Company so you can take out student loans to cover your tuition fees and living costs if you are eligible. This will not affect your bursary.
Image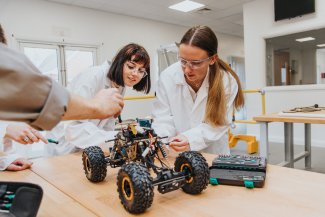 How we are able to provide our bursaries
NMITE has been launched to provide Britain's engineering employers with the graduates they need to build their businesses and solve the nation's problems. These employers are keen to support NMITE and give our students the best possible start. Many have made generous donations to our Pioneer Fund, which is used to finance the bursaries we provide to our learners. 
We thank our donors for their incredible support. Click here to discover our donors.
We'd like to be able to provide more support for our students, especially for those joining our later intakes. If you would like to help us support our learners by becoming a donor, please do get in touch below.
Image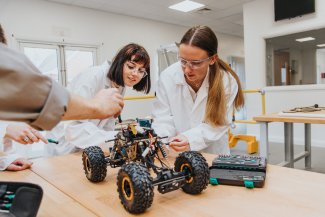 Bursary Terms and Conditions
*Payable to Registered Students only, in 3 separate instalments within their first year of study.