Herefordshire Skills for the Future is a programme which is part-funded by the European Social Fund and match funded by NMITE. Its aim is to help bridge the gap between small businesses and the education sector and develop enterprise skills amongst young people.
Image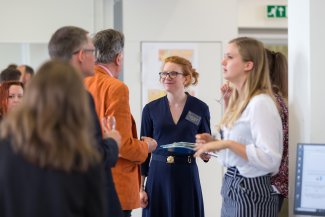 Herefordshire is a cold spot in the social mobility index, with wages and qualification levels below the national average. Our vibrant community of smaller businesses feel hampered by the lack of appropriate skills, and vacancies are hard to fill.
Automation, digitisation and Industry 4.0 means this will become more challenging.
Herefordshire Skills for the Future will address these challenges.
Image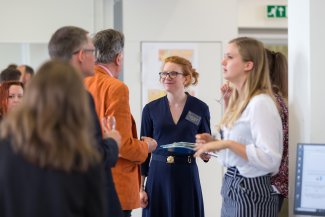 Helping SMEs and Microbusinesses in Herefordshire to understand gaps and opportunities in their labour market skills and offer flexible support to enable them to reach their growth potential. The focus will predominantly be on essential skills rather than technical skills.
Engaging SMEs and Microbusinesses with educators (schools, colleges, FE and HEIs) to embed skills awareness in course content and through extracurricular workshops to help individuals to gain skills relevant to the needs of the local labour market.
Developing enterprise skills amongst young people to inspire a new generation of entrepreneurs who can start and grow businesses to meet local business needs.
The specific aims will be enabled delivering the six activities:
Develop and promote an Entrepreneurship and Enterprise Skills Youth Network
Develop a Future Skills Group
Provide Business Skills Gap Coaching

Facilitate an Employer Engagement Forum

Offer careers advice for school pupils and develop Enterprise Advisor Network

Develop a Herefordshire Placement Programme
Use the interactive tabs below to learn more about each of these activities.
1) Develop and promote an Entrepreneurship and Enterprise Skills Youth Network
Our Enterprise Development Associate will develop a programme of entrepreneurship and enterprise workshops to promote work-ready skills amongst young people (16 to 30 year olds).
This will raise awareness of entrepreneurship as an alternative career pathway and facilitates the transition from education to work.
These workshops will focus on different entrepreneurship skills themes e.g. creativity, emotional intelligence, and other 'professional' skills that are critical to the future of work.
It will help equip students at different levels with the skills to start and grow a business.
2) Develop a Future Skills Group
Inviting membership from the SME community, schools, FE, HE providers, as well as representatives from the local Enterprise Zone and Business Board, a Future Skills Group will strengthen the quality of education and training systems provided by Herefordshire HEIs and training providers to ensure future skills are recognised and become embedded in course content and informed by key stakeholders, including SMEs themselves.
Members will be recruited through advertising in the local press, through the Herefordshire and Worcestershire Chamber of Commerce, and the local Business Board.
The Group will meet three times a year.
3) Provide Business Skills Gap Coaching
Employer Engagement Associate will work with SME employers to undertake a detailed future skills audit, raising awareness, identifying gaps and opportunities, to provide a supportive business environment for future growth planning.
Using the results of the audit to develop a bespoke, specific and detailed skills action plan, identifying barriers to growth and potential opportunities which each employer can use to inform future labour market strategy and planning for their business.
This document can be used to signpost to training opportunities at the most appropriate level and thereby help support businesses as they continue to innovate and remain competitive.
Recommendations from each skills action plan will be collated through a meta-analysis to produce local best practice advice and case studies for other SMEs.
4) Facilitate an Employer Engagement Forum
These networking events will feature thought-leadership talks from experienced SME founders and sector leaders on the relevance of skills provision to business growth and sustainability. They will provide opportunities to share ideas, encourage debate and challenge the status quo, promoting a supportive business environment for SMEs, and help overcome the isolation often experienced by SMEs. Topics could include, for example, the opportunities and benefits of apprenticeships and the importance of 'professional' skills in the workplace to improve recruitment/retention and productivity.
This will provide a peer-to-peer support network to help improve collaboration and sharing of ideas and practices amongst local SMEs, and the confidence to prepare for changes in their business through a skilled, agile and modern workforce.
5) Careers advice for school pupils and Enterprise Advisor Network
Promote aspirations and local career opportunities to school and college students in Herefordshire by further building and promoting the local context of careers provision.
Enhances and supports the Careers and Enterprise Company programme in the county by engaging employers to work with schools and colleges.
Linking business with and providing information and support to the Enterprise Co-ordinator, further developing the Enterprise Advisor Network through NMITE and its connections.
Examples of activities that will take place with schools/colleges will include Mock Interviews, Careers evenings/days, 'Speed dating' careers events in small groups, CV writing workshops and more.
We are also looking at adapting some of the ways in which employers can work with schools in the current climate with Covid-19. This might include:

Virtual mock interviews
Virtual careers events
Employers to record videos about their role/industry/career journey to make available to schools
Virtual work experience/workplace visits-this will potentially benefit those schools who have not been able to do work experience previously.
6) Develop a Herefordshire Placement Programme
The Herefordshire Placement Programme (HPP) builds on the work of the Advisor Network to help promote a culture of supported work experience in Herefordshire, with emphasis on the importance of future skills.
The HPP will support young people transitioning out of education into the labour market by securing high-quality, meaningful work placements with supporting employers to develop structured, age-appropriate content with SMART learning objectives.
The Programme will support SMEs to overcome barriers to provide placements (e.g. experience, capacity, knowledge) by forging links with training providers and schools and colleges. It will support SMEs by helping them identify and scope suitable placements in their business, plan for them, and ensure successful outcomes.
The Herefordshire Placement Programme will also provide a peer-to-peer support network for level 6+ graduates in the labour market, and provide pathways for further training and study, similar to the graduate programmes found in larger organisations. This will help attract and retain graduates in the area, by embedding them in the local business base.
The programme will enable feedback between schools and employers to ensure continuous improvement and to ensure that the LEP meets it goals for Gatsby Benchmark 6.
Supported by the European Social Fund
Each year the ESF helps millions of Europeans improve their lives by learning new skills and finding better jobs.
The European Social Fund (ESF) Operational Programme 2014-2020 is managed by the Department for Work and Pensions. It sets out the national priorities and themes for investment in employment, skills and social inclusion.
Our project is about improving the labour market relevance of education and training systems (Priority Axis 2.2):
To promote improvement in the labour market relevance of skills provision through active engagement with relevant institutions and employers, particularly SMEs and Microbusiness.
Focussing on improving employer participation and engagement learning so that it is responsive to the needs of the local economy and more individuals progress into or within learning. Facilitating the transition from education to work, and strengthening training systems.
Image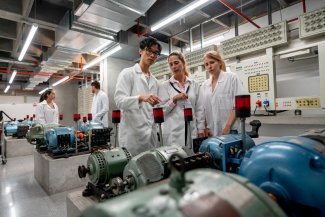 Ready to learn more and get involved?
For more information, get in touch with our team using the form on our contact page. Or simply call 01432 371111.
Image