Hereford... home to some of the most passionate creators, innovators and doers.
Brimming with entrepreneurial vision, Hereford plays host to some of the most talented independent businesses within the UK, as well as some big names within the engineering sector. With a thriving independent food and music scene, miles upon miles of breath-taking countryside and an abundance of activities right on our doorstep, Hereford will quickly become your home from home.
Get involved...
Exploring and experiencing all that you can during your time at NMITE is an absolute must; it's a city that's small, but a city no less, that does have it all.
NMITE is grounded in its sense of community, we work closely with a huge range of businesses and organisations not only to enhance your learning, but to also offer you the best possible student experience.
We invite you to #bepartofit
You won't be surprised to hear we play host to a thriving sports culture here in Herefordshire. The River Wye provides the perfect opportunity for rowing and other waterside activities and there are countless other sports clubs, gyms and outdoor activities throughout the county to get involved with!
From rowing to rugby, archery to angling, climbing to cricket; Herefordshire is a great place to lead an active lifestyle. A number of local gyms and clubs are offering great student discounts on membership packages. The Brecon Beacons National Park and Malvern Hills are close by, if the great outdoors, hiking, caving, mountain biking and wildlife piques your interest then you are coming to a beautiful part of the world. Think castles, waterfalls, mountains and moorland, you'll have more than your fill! 
Contact the Student Support Team at our Blackfriars Campus if you have a particular sporting interest. The team maintain a huge database of sporting clubs and activities.
Image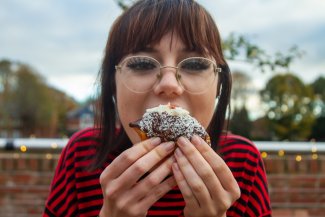 Get local...
NMITE has passionately integrated itself into the local community by utilising all the services and opportunities Hereford has to offer to enhance the NMITE student experience. With our growing number of independent restaurants and retailers, you can expect excellent student discounts from the many local shops, bars, restaurants and cafes as well as frequent events and themed evenings.
Image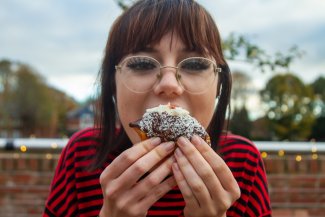 If you don't mind getting your steps in, then you can access much of Hereford on foot or bicycle. No bike? No worries, Beryl bikes are situated around every turn within the City centre and frequently run cost effective offers on usage. 
For journeys further afield, Hereford has great transport links so travelling by train or bus to get to where you need to is easy. The counties National Bus Service is regular and simple to navigate, plus, we're perfectly located approximately an hour away from several major cities including Cardiff, Birmingham and Bristol, with direct train routes to many more. 
Hereford boasts a huge variety of picture perfect locations, from riverside wanders, to cascading hill hikes and rolling countryside - you'll have plenty of opportunity to explore and take in the beauty of our County. If the City life is more your scene, you'll not be short of entertainment as you go from bar to business, all conveniently located within walking distance of our Blackfriars Campus and purpose built student accommodation.