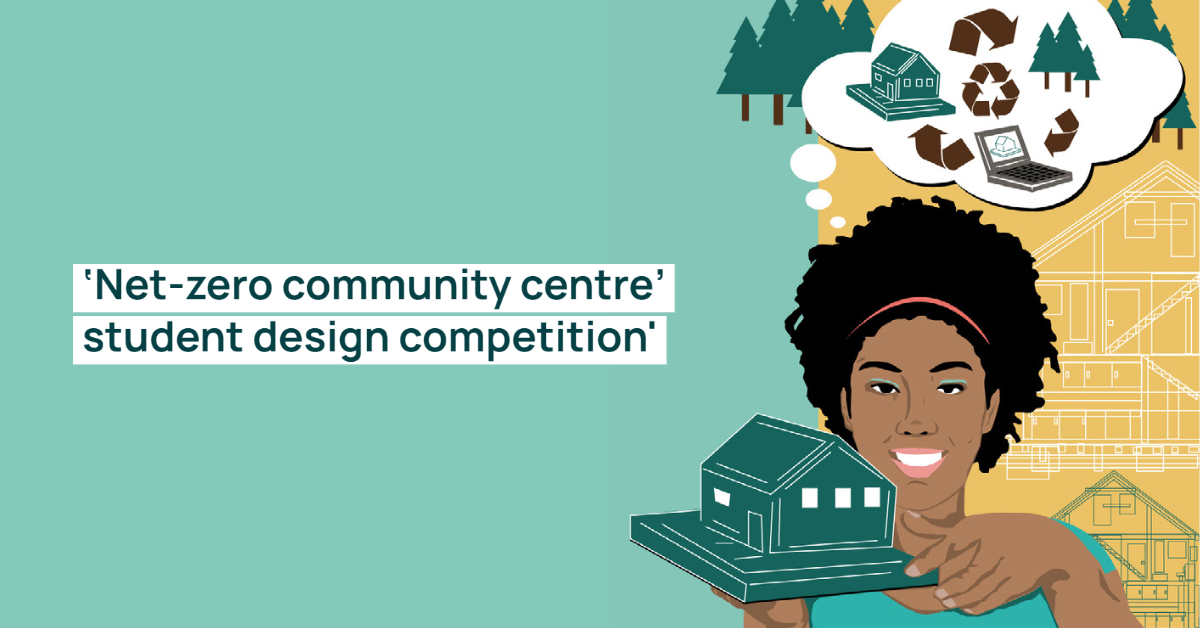 University students across the UK will reimagine Hereford communities as part of a national competition being launched today – Southside Hereford: University Design Challenge.
Timber Development UK – the organisation formed from the merger of TRADA and Timber Trade Federation – is partnering with NMITE, Edinburgh Napier University (ENU) and the Passivhaus Trust, to challenge built environment students, as well as recent graduates, to form multidisciplinary teams to create a 'net-zero community centre' based on timber and timber-hybrid systems.
Students from all built environment courses at UK universities, from first to final year, along with 2021 graduates are invited to enter the competition which launches on the 30 November in person at the Building Centre, Store St, London and online. The 2022 challenge – is to design an exemplary community building that produces more energy than it consumes, at Southside in Hereford.
Teams must produce designs that sites the community centre within the local context and landscape integrating the clients' and communities' interests. The detailed designs must be 'net zero', creatively employing sustainable building materials and construction methods, and be energy and resource efficient, focusing on the health and well-being of people, the community, and our planet.
Built environment professionals must prepare for a net zero future, and this must start in the classroom if we are to reach our climate goals. Our curriculum must be strengthened to meet the climate challenge by raising climate literacy.

"For our future architects, engineers, cost consultants, and landscape architects, this means improving their knowledge and capability of working with low-carbon materials such as timber – and being able to use it wisely and well.

"They also need to be able to work efficiently and effectively together. Interdisciplinary design and delivery teams can achieve far more than individual professions working separately on the same project. Where better to learn these skills than at university?
Tabitha Binding, Timber Development UK, University Engagement Programme Manager.
NMITE is partnering with TDUK, ENU and Passivehouse trust on this challenge-based learning project in order to establish a UK wide educational system that has a student-centric learning methodology. This new educational system will be conceived and will be taught via a partnership approach working with external stakeholders, industry practitioners and academic collaborators.

The objective is to inspire a generation of built environment professional to think differently about construction delivery towards more sustainable forms using timber rather than the traditional carbon intensive materials of steel and concrete. This challenge will exemplify this approach and create value return for the stakeholder partners of the Southside Hereford Project.
Professor Robert Hairstans CATT Director, New Model Institute of Technology and Engineering (NMITE).
About 'Southside'
'Southside' will provide a vibrant, inspiring and inclusive sports, food and skills community focal point for the people of South Wye, the most deprived element of Hereford's population.
The Southside project is a collaboration between two highly energised established community organisations Growing Local CIC and Belmont Wanderers CIC, and NMITE, all of whom share a common goal to improve the future health, well-being, life-chances and employment skillset of the people of South Wye and Hereford.
The heart of the project will be the creation of a single physical building - Southside - which will accommodate all partners.
This competition illustrates Edinburgh Napier's innovative approach to timber engineering education – an exciting real-life challenge for built environment students and recent graduates to design and build for a net zero future. Bringing groups together for this challenge will help to make ideas and innovation come to life. This is the sweet spot where we can unlock the potential to help meet sustainability ambitions in the construction industry.

"With support from the HCI Skills Gateway and Ufi VocTech Trust, the 2022 competition will see our experiential learning in Timber Technology Engineering & Design adopted across the UK. We can't wait to see the positive impact this competition will have for Hereford Southside and the world.
Kirsty Connell-Skinner, Sustainable Construction Partnerships Manager, Edinburgh Napier University.
Climate action does not have to mean sacrifice. Passivhaus buildings can slash heating demand by up to 90% without compromising our health & wellbeing - factors put into sharp focus during the pandemic. It not only helps us meet net-zero targets and eases the transition away from fossil fuels but creates buildings people love."

"We must empower the next generation of designers & engineers with an essential arsenal of climate literacy skills. Education initiatives like this are imperative to build a workforce that can deliver buildings fit for the future. The Trust is delighted to be partnering with a student competition based on a live project.
Yogini Patel, Head of Campaigns and Comms, Passivhaus Trust.