Image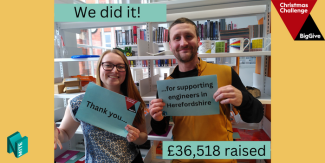 From the 29th November to 6th December, NMITE took part in the Big Give Christmas Challenge – the nation's largest matched funding campaign.
Our target was to raise £30,000 to fund bursaries for three NMITE students from Herefordshire who come from disadvantaged backgrounds, and who may not otherwise consider furthering their education.
We are delighted to announce that, thanks to the terrific support of our donors, we raised a grand total of £36,518.25 including matched funding and Gift Aid.
Every penny of this funding will go towards providing life-changing bursaries for Herefordshire-based individuals joining NMITE in 2023. These bursaries will enable us to attract a more diverse cohort of students and provide them with an opportunity to become work-ready, world-conscious engineers.
We know from experience that these bursaries are a critical means of support for our students, especially those who are changing careers, who come from different backgrounds or who are not eligible for a student loan.
We look forward to offering these life-changing bursaries to three more local students in September 2023.
Image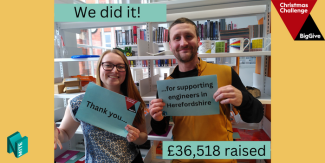 "The response has been overwhelmingly positive. A huge variety of people have supported the campaign – from local businesses, to individual members of the community, old friends of NMITE and new donors. There has been a real sense of the community coming together to support local students. It's been so encouraging."
Laura Perratt, Fundraising Associate