Welcome to NMITE
Our campus spans across two sites...
As part of NMITE's mission to integrate into the City of Hereford through the reuse and repurpose of unused buildings, we opted to transform our City centre campus, Blackfriars, into the exceptional facility it is today. Steeped in history, the building (a former boys school) opened in 1912 and was (much) later expanded with the addition of several of the 58 modules which housed the 2012 Olympic Delivery Authority's offices in the Olympic Park. 
Our second site, newly built and located within the heart of Hereford's Enterprise zone at Skylon park in Herefordshire, takes the form of a hybrid structure built using a combination of timber and steel - an exemplar in timber technology and design, with biophilic design principles at its heart. 
Both sites have been rigorously developed and designed to a high spec internally to benefit ONE thing; your learning.
Image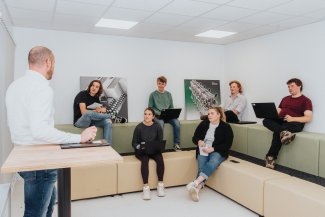 NMITE Blackfriars Campus
Blackfriars St.
Hereford
HR4 9HS
Now you know the history of our campus' beginnings, you'll know not to be fooled by our city centre sites rustic exterior - for inside is a treasure trove of technology and innovation.
Let's dive into what makes this building really interesting!
Image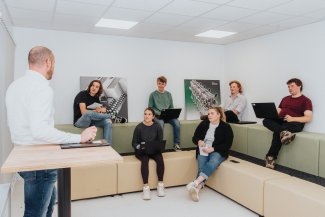 Blackfriars' consists of seven purposefully designed engineering studios and a fully equipped Factory
Studios
Every one of our interactive learning studios have been designed to support teamwork and boost communication. Every aspect of the campus has been optimised for learning, from the furniture to the equipment, and even the colour schemes and lighting.
Each studio is multifunctional, catering for a wide range of learning across different disciplines. Different working zones encourage immersive learning experiences where you can actively collaborate to acquire and put into practice new skills and knowledge. The space has been configured to ensure students gain knowledge from their hands-on projects and work together as a team rather than simply sitting through conventional lectures.
Each studio is sponsored by one of our esteemed commercial partners with raised funds further supporting the delivery of work-ready engineering graduates (you!)
The Factory 
Our fully quipped factory provides a state of the art manufacturing space with a range of equipment for metal working, wood working and beyond - it's an engineers playground!
Here you'll find a wide range of tools and devices to take your projects to the next level. Among these you'll find a Tensile Test Machine, manufactured by Thümler, used to test and understand the properties of engineering materials, as well as Keyence's Automated Measurement Machine - its non-contact measurement solution is particularly useful when developing soft or flexible products. 
On site you'll also find:
Our Academic Skills and Knowhow Centre (ASK) - the academic support you need, when you need it
Our library and resources room - jam-packed with interesting artefacts and unique materials to enhance your learning
A variety of meeting and reflection rooms - for when you need privacy
Media room - equipped with everything you need to document, enhance and deliver projects
Student services department - easily accessible on site 
A number of breakout spaces - each space carefully considered and designed with your experience in mind 
Large social space - although perfect for relaxing, dining and getting to know your peers, this space doubles up as an events space ideal for guest speakers, student events and all-round celebrations
Image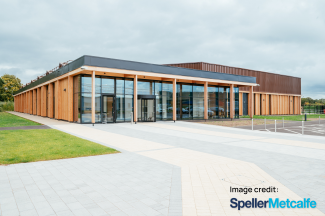 NMITE Skylon Campus
Canary Drive
Skylon Park
Hereford
HR2 6SR
Our Skylon campus, built with sustainability at its heart, is home to both the Centre for Advanced Timber Technology (CATT) and the Centre for Automated Manufacturing (CAM); two 700sq m workshops. These unique workshops provide opportunities for applied, practical learning - through testing, prototyping and manufacture - simulating a real-world industrial setting. It facilitates NMITE's unique learning-by-doing approach.  
The purpose built 2,500sq m building also houses five studios for classroom learning in addition to a number of breakout spaces. These spaces are flooded with natural light along with an abundance of future-proofed digital solutions to support blended learning opportunities.
There is far more to this building, than meets the eye...
Image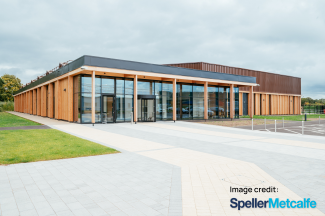 Timber Design

(The technical bit)
NMITE's Skylon campus is a hybrid structure built using a combination of timber and steel. The studio spaces have been constructed with a combination of cross-laminated timber (CLT) panels for the external walls and ceiling, internal and external glulam beams and timber insulated closed panels. Externally, the walls are clad in larch.
The workshop space is constructed from steel frames with the southern external walls built using timber insulated panels which are clad in a combination of larch and metal panels.
On creation, we've opted to showcase as many different ways of using timber as possible within the building and this is done using structural timber (glulam and CLT), external timber cladding (larch), internal acoustic panelling within one of the breakout spaces and exposed oriented strand board (OSB) lining to the back of the timber insulated panels within the CATT workshop.
The timber has been left in its natural state where possible with UV treatment to external elements. Larch was chosen for the timber cladding for the external façade, as it is one of the most naturally durable timber species (see, you're already learning!)
Bioclimatic design
(The conscious bit)
The positioning of our building considers the local environment, as it should, and is orientated to minimise heat gain whilst maximising natural light.
The studio spaces face west and have solar shading provided by a series of timber battens that continue the language of the timber façade. The studios also benefit from north lights that bring in natural light into the spaces. In contrast, the workshops have slim slot windows to minimise solar gain from the south.
In other words, the building has been designed to provide you with as much natural light as possible, not only saving energy but allowing you to reap the benefits of this throughout your experience.
To greater encourage active, eco-friendly travel, the site includes shelters to accommodate 60 bicycles and a local cycle and pedestrian path into the centre of Hereford has been extended especially for our students and those using the building. 
A Living Lab
(The, 'that's just cool', bit)
The building itself is an educational toolkit. On creation, architect Bond Bryan on behalf of NMITE left as many services as possible exposed within the building so that students can clearly see the different elements of a building's inner workings and how this particular building is constructed.
The building has been fitted with sensors to monitor thermal, acoustic and structural performance, with feedback loops to digital models to carry out performance evaluation. This includes the installation of 48 sensors that collect data on moisture.
Data from the Living Lab is continuously collected, collated and shared with the wider industry to help inform further innovation in timber engineering. Now that's taking learning by doing to whole new level!
Our Skylon campus is home to our BSc (Hons) Sustainable Built Environment programme - the first full degree from NMITE's Centre for Advanced Timber Technology (CATT) which reflects the transformative potential of timber to meet the challenges and opportunities for a more sustainable built environment.