#bepartofit
This is where you start becoming an NMITE Engineer!
There are two ways to apply to NMITE
Applying through UCAS
Register for an account in the UCAS Hub. You'll then be taken to your UCAS Hub dashboard where you'll see a tile called 'Your application'. Click 'Start' to begin your application. 
Applying directly to NMITE
Register an account on the NMITE website. Once you've registered, you'll be asked to complete our simple application form. Please try to provide as much information about yourself as possible as we want to hear about the valuable knowledge and experiences you have gained which will enable you to succeed at NMITE.
What happens next
Once we receive your application, we will assess your academic potential based on your qualifications, grades and your statement to find out more about you as an individual and your motivation for studying at NMITE.
We may contact you if you haven't provided sufficient information in your application or personal statement. The academic team may wish to invite you to complete a one-to-one interview to understand your passion and potential for studying the programme.
If English is not your first language, we will ask you to provide evidence of English language proficiency (typically an IELTS certificate).
If you are applying without formal qualifications but have relevant experiential learning of at least three years, your application will be considered through the Recognition of Prior Experiential Learning (RPEL) procedure. Once we receive your application, we will ask you to provide a portfolio and supporting evidence.
By registering an account, you are giving consent for NMITE to process the information you provide in accordance with NMITE's Privacy Notice for Enquirers and Applicants.  A printable Quick Guide to NMITE's Application Process is available here. 
Applicants will receive written communication from the admissions team following each stage of the process by the timescales provided in NMITE's Admissions Policy.
Image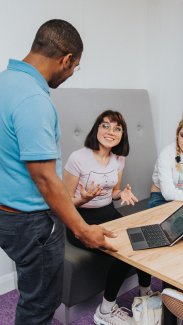 Selection Process 
After you have submitted your application we evaluate your suitability for your programme of choice, taking into consideration your education history – academic and language qualifications, and written statement. Overall, this is to assess your academic potential, motivation, and core skills for studying your chosen programme and to establish if you have the potential to be a successful, contributing member of our community.
If your application is successful, you will be issued with a formal offer letter. You will also be invited to an open day where you will meet NMITE staff and other applicants and find out more about NMITE's unique, highly collaborative setting.
Image