Information for International Students

Why should you choose NMITE for your engineering studies?
The world is looking for engineers who can offer more than technical knowledge. It's looking for engineers who can apply that knowledge to real projects in the workplace, engineers who can work alongside anyone and everyone, who can turn a challenge into an opportunity to find the right people, tools or materials for the job and figure out exactly how to use them.
The New Model Institute for Technology and Engineering is a new Higher Education Institution built to educate and nurture future engineers who will be creative, innovative, and determined to solve world problems that will transform lives, communities and the planet.
Students choose NMITE for the state-of-the-art facilities, small class sizes and an environment of high-quality teaching and support to enable you to make the most of your studies.
The campus is set within the historic city centre of Hereford, with excellent transport links throughout Herefordshire and beyond.
Image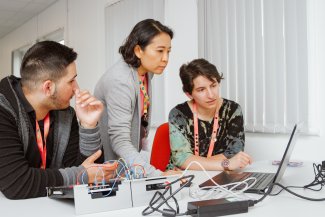 Engineering degrees at NMITE
Choose between our Bachelor's in Integrated Engineering (BEng) in just over 2 years (26 months) or our Master's in Integrated Engineering (MEng) in only 3 years
Real-world learning – hands-on experience from day one with real employers, solving real problems.
Accommodation places guaranteed for first year students - state of the art, en-suite accommodation.
Explore NMITE's Engineering degree programmes and find the right fit for you. 
Image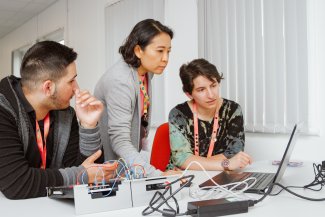 Start your application now
As an international student you can apply directly online using NMITE's online application form or via the Universities and Colleges Admissions Service (UCAS). 
Upon recipient of your initial application, the Admissions Officer will make assessment of your suitability to the programme, taking into consideration your education history, academic and language qualifications. Programme selection process also includes your personal statement assessment and an online or in person group activity or individual interview.
To maximise chances of you receiving your Confirmation of Acceptance of Studies (CAS) quickly, it is important that you email us all required documentation at first opportunity. You will need your unique electronic CAS reference number for making student visa application.
Do I need to apply for a UK student visa to study at NMITE?
You may hold a valid UK immigration status under the EU Settlement Scheme, if you are EU, EEA or Swiss national or a relevant family member.
If you do not hold Pre-settled or Settled Status under the EU Settlement Scheme, you may need to apply for a Student visa to join NMITE, unless you hold an alternative UK visa / leave to remain which allows you to study.
To apply for the UK Student visa to study at NMITE, international students must have received the Confirmation of Acceptance Study (CAS) from us.
CAS is a unique electronic document, produced by NMITE for the UK Home Office and includes your individual reference number which confirms NMITE as your visa sponsor. The CAS statement provides information about you and your study to UK Visa and Immigration (UKVI). You will need a CAS number and information from your CAS statement to make your Student Visa application.
CAS statement lists:
Your unique CAS number

Your programme title and its start and end date

NMITE's Sponsor Licence Number

NMITE's Sponsor Licence Address (registered address)

Your primary study address

Your qualifications NMITE's has used to assess your eligibility for a place on your programme

NMITE's confirmation that your programme represents academic progress if you have already studied in the UK

Confirmation of your English language ability

Your programme tuition fees

The amount you have already paid for your programme

Your personal details as shown in your valid passport

Your passport number
You can get more information on how to apply for your Student visa and which visa to apply for on the Home Office or UK Council for International Student Affairs (UKCISA) websites.
Please contact NMITE's Admissions Office via email on admissions@nmite.ac.uk for further information about our programmes and your individual CAS details before your programme starts.
September 2023
NMITE's Fees for international students for September 2023 are to be confirmed. We will update this page as soon as further fee information is available.
Academic and Pastoral Support Services at NMITE
Student Support at NMITE
The Student Support Team support and advise students from end to end of your experience and journey with NMITE; this means that we meet you during the selection process, support your welcome and induction, and throughout your time with us we offer a single point of contact and confidential face to face or telephone-based appointments.
Based at our Blackfriars campus, this service provides practical information and advice to students on any issues that may be impacting on your student experience and wellbeing; we will support you to make informed choices so that you can focus on your studies and enjoy your student experience. And, as your time draws to a close, we support transition along your chosen pathway.
Academic Skills & Knowhow (ASK) Centre for International Students
The ASK aims to provide a friendly physical and virtual space where you can ask for help or support for any gaps in your academic skills during the early stages of your time at NMITE.
The ASK is open for all students, whether from the UK or international, to help with their transition into NMITE and more advanced skills later on in your program. For international students just arriving at NMITE, we can support you with some of the idiosyncrasies of studying engineering in the United Kingdom. For example,
Use of English, particularly idioms and informal English.

Maths notation and the differences between how you might write maths and the conventions in this country.

Navigating NMITE's digital technology and make full use of study resources at NMITE.
If you have any questions on the ASK before you decide to apply or before arriving at NMITE, contact ask@nmite.ac.uk.
Tutorial Support
Your Personal Tutor is a member of academic staff who is allocated to you at the start of your studies and is your first point of contact for academic advice. Your Personal Tutor will follow your progress to help keep you on track to succeed.  Whilst at NMITE, you and your Personal Tutor  will have regular, timetabled meetings to ensure that an effective and trusting relationship develops
Throughout your time at NMITE your Personal Tutor will undertake a variety of roles. These include providing advice, monitoring, and discussing your progress based on the results of various assessments, and serving as a point of contact should you run into difficulties. It is also important to share your successes with your personal tutor because you are likely to ask them to write references for you when you apply for jobs as you approach graduation.
Preparing for NMITE
All students at NMITE receive support from the Student Support Team. Before you arrive, the team will provide a range of information and guidance on travel, accommodation, banking, healthcare, and the local area.
Air Travel 
The nearest airport to NMITE in Hereford is Birmingham International Airport. This is an international airport and usually very easy to arrive at and quick to get through immigration and customs.  If you can, we advise you book a flight which brings you into Birmingham.
Please note that immigration procedures at Heathrow can take up to three hours to complete.
We would suggest that non-EU students do not come via Republic of Ireland as you will not have the required visa stamp put into your passport.  If you do come into England via this route, it is essential that you ask to see a visa official before you go through customs. They will then give you the required entry clearance. Failure to do this will mean that you will be asked to leave England and re-enter.
Train Travel
Routes to Hereford
Birmingham International Airport – take the regional train to Birmingham New Street and then national rail service train to Hereford.
Heathrow Airport – take the Heathrow Express to London Paddington and then a national rail service train to Hereford.
The Station Approach student accommodation is located to the left as you exit the train station, approx. 50yards.
Coming to Hereford to study might be your first time living away from home. Early in the application process, you will be asked to make a choice between living in NMITE-approved accommodation, and independently renting in private rental accommodation elsewhere in the city. 
There are a number of factors you should consider when choosing, and opening, a bank account or building society account as an international student in the UK. We cannot advise you on which account, and bank / building society, you should choose.
There are also a number of UK-based consumer websites which provide recommendations about accounts offered by UK banks.
Read this guide to the Top UK bank accounts for international students 2022 - Save the Student
Healthcare in the UK
The NHS (National Health Service) is the UK's state health service which provides treatment for UK residents through a wide range of health care services. Some services are free, and some have to be paid for. For detailed information about your eligibility for healthcare and free medical treatment, please read carefully the report provided on UKCISA website- Keeping Healthy.
GP (Doctor) surgery or health centre
In the UK doctors are called General Practitioners (GPs) and they are usually based in Health care Centres called 'Surgeries'. This is your first point of contact for medical treatment. Most illnesses and other problems can be treated by the GP, but if you need to see a specialist, the GP will refer you to an appropriate hospital department. As well as consultations with a Doctor, most GP's Surgeries and Health Centres provide a range of community health services: for example, vaccinations, women's health clinics, services for parents of young children, family planning, contraception and sexual health
Accident and Emergency (A&E) Department
Hereford has an Accident and Emergency department which is open 24 hours a day.
If you need immediate medical assistance (for example, because of an accident), telephone 999. The call is free including from mobile phones. An operator will ask you which emergency service you need (Fire, Police or Ambulance).  For urgent medical assistance ask for the ambulance service. Be ready to tell the emergency services what has happened and exactly where you are, especially the street name.
Dental treatment
You should try to have your teeth checked by a dentist at least once a year.
Details of local dentists can be found at Dentists near Hereford
Image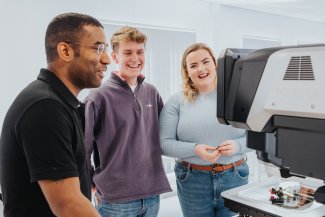 Contact us
We understand you might have some questions regarding our courses or admissions process. Get in touch with the NMITE team today. 
Image