What does different mean?
dIf(ǝ)rǝnt– not the same as another or each other; unlike in nature, form or quality. 
Here are some highlights:
Accelerated programme completing your Undergraduate Master's Degree in three years, getting you out into the world of work faster
Learning time 9-5, Monday-Friday modelling the workplace and providing clear and unambiguous downtime
Hands on learning-by-doing in small student teams, in an engineering studio like your future work environment - and we don't have any lecture halls

Emphasis on 

learning how to learn,

 critical for

your

future professional

development

Regular access to NMITE's Engineering Factory – all the latest equipment used by industry to support your learning 
Real-world challenges, set by real employers, at the core of each 3.5 week-long learning module (we call them Sprints)

helping you to learn both content and professional practice
Engineering educators with a mix of academic and work experience, and others from professions including economics, geopolitics, culture, technology, ethics, design, the arts, humanities, finance, marketing and business 
No traditional exams - instead your own personal learning portfolio which underpins assessment at the end of each learning module and lives on with you as a reference after graduation
Lifelong relationship with NMITE not as a number on the alumni database, but helping to shape the future of the organisation through future partnership, classroom contributions and Continuing Professional Development
"There are no limits to who an engineer can be . . ."
Prof Elena Rodriguez-Falcon
CEO & President
Image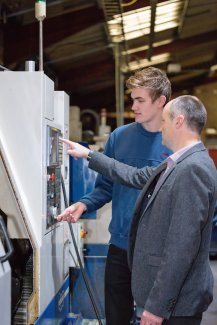 Unique, but also tried and tested
Wondering about a new programme in a new institution? Believe it or not, the long list above is not as new as it seems. You can find parts of the NMITE approach in real practice all over the world.  What's different is bringing this all together. By design. From scratch. Led by pioneers.
And the "Why?" behind our approach is just as important as the approach:
We believe that engineering education can and should be better

We believe that engineering must become more open to new and different kinds of thinkers

We believe in increasing the potential of every learner who crosses our threshold

We believe that experimentation, trial and response, learning how to learn, working with people from a variety of backgrounds, and reflection on work done and yet to be done is vital to being work-ready when entering the workforce
These beliefs, translated to teaching and learning, are at the core of our academic philosophy.
Image